Sterner Screw Machine is an ISO 9001:2015 certified manufacturer of screw machined parts and components. Our specialty is turning bar stock ranges from 1/2″ to 2″ in diameter to meet our customers designs. We are a large volume supplier to many industries, including electronics, firearms, pumps, industrial supply and hydraulics, just to name a few. We are your cost-effective solution to producing quantities as low as 500 to large volumes in the millions. To produce these parts, we use multiple spindle Greenlee Screw Machines and Brown & Sharpe machines. All of our screw machines are capable of producing tight tolerance parts from common materials like steel, stainless steel, aluminum, brass, copper and titanium. What sets us apart is our dedicated account managers and commitment to our customers: our quality and service is second to none. Contact us today to see the difference in quality, price, and service.
Multi-Spindle Screw Machining
Automatic CAM-driven screw machines have been the workhorse of the turning industry since the 1950's and are still widely used. Sterner Screw Machine (SSM) recognized the short falls of these machines with modern quality requirements and in 2010 began upgrading our CAM-driven machines to make them perform well beyond the standard machines used by the rest of the industry.
Our screw machine shop is equipped with 6-spindle Greenlee automatic screw machines for manufacturing components such as hydraulic valve parts, shafts, fittings, pins, nuts, bolts, and specialty fastener components. Each multi-spindle screw machine is equipped with multiple tools that perform different cutting operations sequentially.
Sterner Screw Machine has been moving towards water-based coolant in all of their screw machines. This greatly reduces tool temperatures which dramatically increases tool life and VOCs are virtually eliminated from the machining process. We couple this with high pressure coolant to get coolant where it is needed. The result is an increased product consistency and no contamination from cutting fluids. Our Screw Machines are equipped with length and diameter sensors to detect improper feed out and incorrect thread diameters. This allows the operator to cull defective parts before they escape the machine minimizing scrap and lowering ppm's.
Single Spindle Screw Machining
Our single spindle automatic screw machines can be equipped with a range of cutting tools, including collet pads, form tools, and special counterbores to create brown and sharp screw machined parts. Special attachments are utilized for handling additional threading, cross drilling, straddle milling, broaching, and recessing operations. Several features, such as external and internal steps, tapers, knurls, splines, broaches, as well as slots, can be incorporated in our screw machined parts without secondary operations. With our Brown & Sharpe Chuckers, we also turn eccentric features on metal bar stock with diameters up to 1½".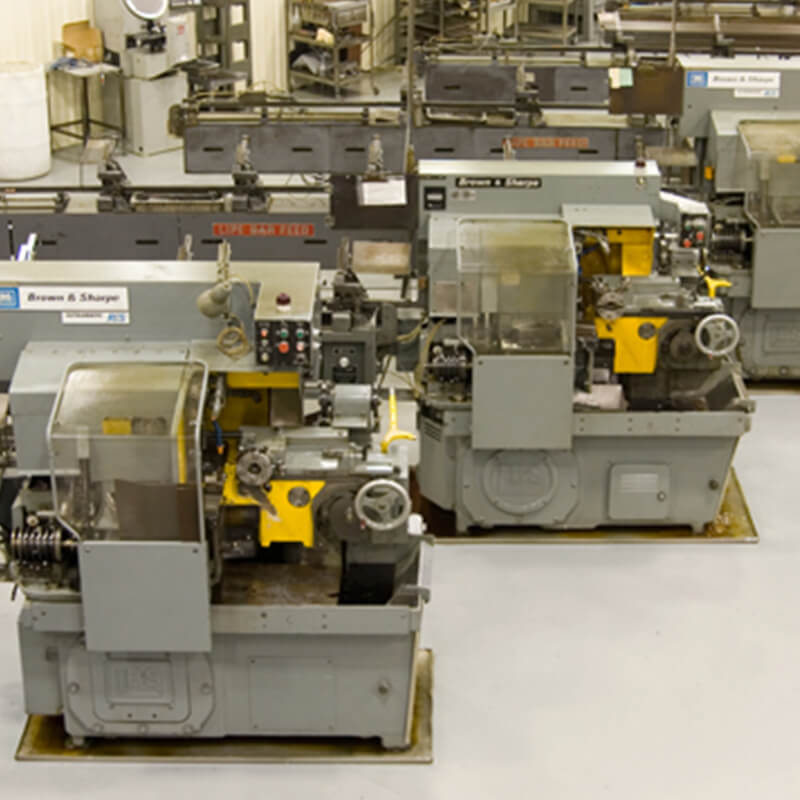 CNC Machining
We have 9 CNC lathes with bar feeders to produce parts for a variety of large complex higher precision parts. Our CNC machines vary from 2 axis machines to 5 axis machines. We have machines with sub-spindles that can automatically transfer parts so that both ends are machined within the same cycle time. Contact Genesys Industries for your precision CNC turning and CNC milling service needs today! A one-stop source for precision machined parts. Consistency and quality are achievable to precise specifications. CNC machines may be programmed to perform many operations one after the other. Our CNC machines will produce your precision machined parts to the most exacting standards.
WELCOME TO GENESYS INDUSTRIES
PRODUCTS & CERTIFICATIONS